Helping business to reopen
Helping business to reopen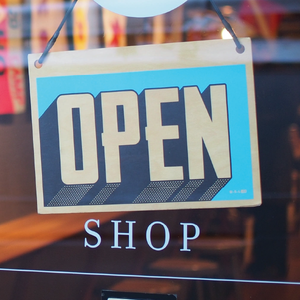 Businesses in all sectors that have been closed for the last number of weeks are gearing up to reopen, and at Signs OnLine we have the products to help them get back to work.
Signs OnLine product designers have developed a Counter Guard or sometimes called a sneeze guard or spit guard.  These have all you need to fix them yourself. In the kit there is a 100cm x 75cm clear perspex screen. This is connected by a thin wire rope to two hook that you need to screw into the ceiling above your counter or desk.  You can adjust the height that the screen hangs by adjusting the connecting wire.
https://www.signsonline.ie/products/perspex-counter-screen
We also bundled together the most popular self adhesive stickers that have been requested over the last few weeks.  It is important that businesses communicate effectively the social distancing protocols with their customers.  These social distancing signs also include the floor stickers to remind customers when queuing, where to stand.
All of these social distancing stickers and social distancing signage are available separately.  We have also listed the life size feet stickers that can be stuck to the ground to assist with customer flow.
All of our COVID-19 signs and products are available at this page https://www.signsonline.ie/pages/social-distancing-signage
We aim to have the fastest delivery time in the business and you can be assured that you are getting the best value online or offline by choosing to buy your covid-19 signage from us at www.signsonline.ie
At www.signsonline.ie we have FREE DELIVERY on all orders over €40 and for orders below this delivery is only €4.50
All orders are tracked and dispatched with DPD.
If you need to speak to someone about reopening your business then give us a call at 053 - 9383494 - we're here to help you.
DM
LINKS
https://www.signsonline.ie/products/retail-social-distancing-sticker-pack
https://www.signsonline.ie/products/feet-floor-stickers
https://www.signsonline.ie/products/covid-19-help-prevent-coronavirus