Reception Signs at Murex
Reception Signs at Murex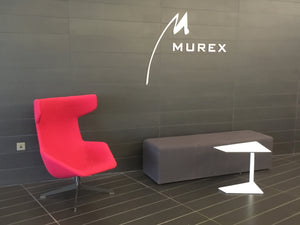 Barrow Signs were recently involved in an interesting project with Murex (www.murex.com), a global software company with its Irish headquarters in The Oval Building in Ballsbridge.  While The Oval is a shared building Murex occupy the entire floor; the brief on this occasion was to design signage for two locations in their office that is in keeping with their corporate brand. Signage was required on the timber panels which are the first thing you see as you exit the lift on the Murex floor, and also in the reception area on the inside of their space.The finish on the wall in the reception area was a dramatic chocolate brown colour ceramic tile.  
On considering the material options it was decided to use a 12mm black acrylic backing panel with a 1mm brushed stainless steel front face.  A partner Company used co2 laser cutting equipment to precision cut the stainless steel, this ensured that the lettering remained dead flat for bonding to the acrylic and left no scorch marks on the stainless.  The two prices are bonded together to give a total built-up depth of 13.3mm.  For bonding to the ceramic tile the 3m brand VHB tape was used.
The two parts to this job were installed in less than three hours which were during working hours and without any disruption to the office.
At Barrow Signs we work with all of our clients' to ensure that material choices, scale and design all work together to deliver  the required effect.  Please contact Dorian Marks at 087 9980510 if you would like to discus high quality signage for your organisation's building.