Art Interpretation Panels at Belfast Harbour Commissioners Office
Art Interpretation Panels at Belfast Harbour Commissioners Office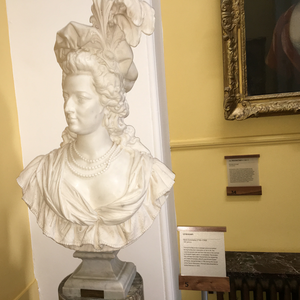 Barrow Signs have had the incredible pleasure of working with Belfast Harbour Commissioners and Fresh Design Agency to help develop, manufacture and install over one hundred interpretive panels fixed adjacent to some of the priceless artwork at the Commissioners office.
Opened in 1854 the office is an absolutely stunning building built in the style that reflects that of an Italian palazzo, it is as beautiful on the outside as it is on the inside with impressive stained glass windows a stunning mosaic floor and grand staircase. On every wall hangs artwork from all parts of the world, reflecting the importance of the organisation and the building in the City.  Today the Commissioners own and manage a massive parcel of waterside land which is being developed for commercial and leisure use.
The Harbour Commissioners and their curators have been for some time developing a catalog of artwork with a directory and interpretive panels to detail the artist, date and a description of the works. As far back as 2014 Barrow Signs were approached by Fresh Design [www.fresh.ie] the appointed designer for the project with a brief to fabricate the interpretive panels. The outline brief was a wooden frame which need to be numbered, panel for the text and would need to be fixed to the wall with no visible fixings.
After several prototypes and samples the Client decided on a 30mm high x 15mm walnut bottom rail and a 15mm x 15mm top rail, both have a 3mm routed channel.  An A5 size  polished acrylic panel with the text reverse printed and mounted to the panel which we overlaid with a dust effect vinyl to diffuse the light and provide a contrast for the text.  The acrylic panel slots into the bottom and top rail and we selected a 3M VHB tape to fix to the wall.  The final design was approved in late 2014 and since then Barrow Signs have installed these panels in three phases, the most recent of which was in July 2016.  
This is a specialist project that we are delighted to be involved in and have gained significant experience in developing bespoke solutions for unique environments. Barrow Signs welcome enquiries from Art Galleries, Museums, Libraries and Public Buildings seeking to implement new or update existing interpretive panels and signage. We can be contacted at 053 9383494 or by email to talktous@barrowsigns.com
DM