Back to school for Barrow Signs!
Back to school for Barrow Signs!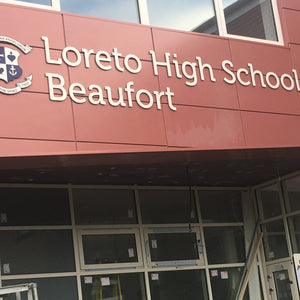 Building good relationships with customers is very important to us at Barrow Signs.  In 2011/12 we undertook a signage project for an An Post facility in Carlow for T. Connolly & Sons Ltd., a building development Company based in Roscommon. 
In 2018 we are delighted to be still working with T. Connolly, and this is a blog on a neat project that Barrow Signs completed last week at Loreto High School, Beaufort in Rathfarnham, Dublin for them.
Barrow Signs were invited to provide a tender for the project, the specification was relatively straight forward, CNC routed logo, finished with cast vinyl and CNC Routed lettering.  However, what made this project more challenging is that the design of the building featured an aluminium cassette type cladding. The Dri-Design façade cassettes manufactured by Kingspan that had wide joints, making the mounting of the lettering critical.
Once the aluminium letters were cut and powder coated, Barrow Signs' technicians applied the delicate detail to the logo in the production area, before being sent to site. The total area of the lettering was 5.5metres wide x 80cm high.
On site the positioning of the template was critical both in terms of the requirements of the Architect/Client, also to ensure that the fixings applied to the lettering fell outside of the joints in the panels.
Following an incredibly dry spell on the day of the installation the weather turned, making installation more complex. As the contractor was handing over the site within a few days, it was decided to stay on site and monitor the conditions. At 4:30pm a dry spell opened, and from commencement to completion took approx. 3 hours. Fitting was conducted off an articulated boom type MEWP (Mechanically Elevated Work Platoform) machine. 
Barrow Signs site fitters are CSCS certified for these machines and hold valid safe-pass cards and the Company is fully insured to the level required for undertaking work on public contracts. Their safety statement is also available on request.
Barrow Signs are experienced in and understand the special requirements when working at schools both during term time and at holiday time. If you have a project that you would like to discuss, please call their office at +353 (0)53 9383494.  Installations by Barrow Signs can be found throughout Ireland in the UK.
DM