Wexford Libraries sign refurbishment
Wexford Libraries sign refurbishment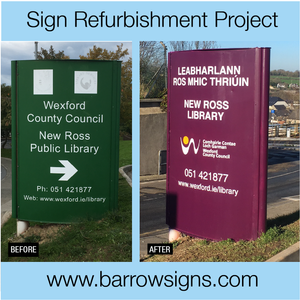 I'd like to show you a multi-site sign refurbishment project that Barrow Signs recently completed for the Libraries section of Wexford County Council (www.wexford.ie/Library), the scope of the project was to refurbish the existing main directory signs at New Ross and Bunclody Libraries and also install graphics to the RFID gates at the entrance to the facilities at New Ross and Wexford.

You can see from the before images there was no co-ordination in the design, with one sign being bottle green and one purple. The graphics were badly faded, we thought that the oversized arrow in the centre of the sign was unnecessary and not to mention ugly.
BEFORE PICTURES
From our initial proposal the purple (RAL 4017) was chosen from the palette to be the main colour of the sign with white text, it was important also to work the Council's new logo into the design and also comply with the Official Languages Act. In summary the Languages Act states that on signage "Irish to be no less prominent than English and to appear before English" This applies both to the main text and also the logo.

The sign at Bunclody was a really straight forward element to the project where we were able to dismantle the sign, return it to the Barrow Signs workshop for painting and redressing and refitting. This element was completed in four days. However, the New Ross project proved to be more far complicated, mainly due to the legs of the sign are firmly cemented into the ground so the sign was painted on site. This sign is also on a fairly steep bank and painting outdoors in December proved more challenging than originally anticipated!
FINISHED PHOTOGRAPHS
The third and final element of this project was to install manifestations on the RFID gates compliant with Part M of the Building Regulations. Our designers went beyond this with the random circular design that was chosen.
In addition to supplying new signage we are happy to work with customers to extend the lifespan of their existing signs by carrying out maintenance and refurbishment. Feel free to contact me at 08799 80510 for an informal chat to establish if your signage can be refurbished.

Dorian Marks
Manager
087 9980510