Event Marketing and Promotion with Corriboard Signs
Event Marketing and Promotion with Corriboard Signs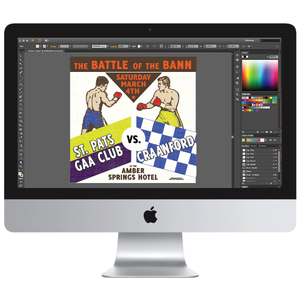 This weekend St. Patrick's GAA Club of Camolin will take on a Craanford in a white collar boxing type event at The Amber Springs Hotel (www.ambersprings.ie) in Gorey.  These types of events, and there are plenty, for example, Lip Syncing, Strictly Come Dancing, Duck Racing, Talent Shows, etc., have the potential to be big money spinners for the organsations involved in arranging them.  
For this event dubbed "The Battle of the Bann" Barrow Signs designed roadside signs, posters, the fight night programme and tickets for the night.  All of this media featured the distinctive brand that Barrow Signs developed for the event.  We chose the neutral colours of brown and orange, vintage type boxing characters and the colours of each camp.  
Corriboard roadside signs are invaluable for raising awareness of upcoming events and they are also very cost effective considering that prices start at €10, which is excellent value considering the amount of exposure they receive from passers by. Barrow Signs have over 10 years experience in the design of these roadside promotional signs and are happy to work with your organisation in the design and print.  Hard work by members of the orgainsations in filling seats is suplimented by the general public made aware of events by effective signage. 
BARROW SIGNS TOP TIPS FOR ROADSIDE SIGNS
1. LESS IS MORE - use these signs to convey the main points what, when where.
2. COLOUR SELLS - be bold and use strong colours (though be careful using too much red), Strong contrasts between colours is important
3. CHOOSE EASY TO READ FONTS - We love helvetica, but there are many more like it that are easy to read from a distance, try and avoid serif fonts such as Garamond and script fonts.
We are very happy with the design that we created for this event and early indications are that this event is a sell out, so it should be a good night for Craanford and Camolin.
If you are planning a fund raising or event in the future we'd be happy to share our knowledge and experience with you.  Please call us at 087 9980510 or drop us an email anytime to printer@barrowsigns.com.