Safety Signs at Compost Manufacturing Plant
Safety Signs at Compost Manufacturing Plant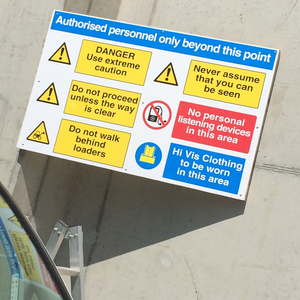 We were recently contracted by Walsh Mushrooms [www.walshmushrooms.com] of Gorey, County Wexford to design, manufacture and install safety signage for their compost production plant.  We discovered that the manufacturing process for mushroom compost can be a particularly hazardous process involving heat, steam and heavy moving machinery.
Hazards were identified by on-site safety consultants with whom we worked closely with to advise on size and positioning of the warning signs.  We designed the different signs for all areas of the plant, drafts of which were submitted to the Client in advance for alteration and approval.  On approval the signs entered the production process and were fitted by our own crew.
The images I have attached were two of the larger ones, the multi-message sign is fitted at height at an area know as the Strawbale Yard, this size of this is 1.2m x .9m while the yellow "Safety Starts Here!" sign is installed at the side of one of the stores and overlooks the entrance to the plant, the size of this sign is approx 5m x .8m
If you are a Factory Owner, Production Manager, Safety Manager or Safety Consultant and require Safety Signage supplied or supplied and fitted, please call me at 087 9980510 or by email to dorian@barrowsigns.com, we would be happy to discuss your requirements.
Dorian Marks
www.barrowsigns.com