Art Gallery Signs
Art Gallery Signs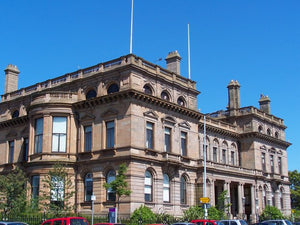 Barrow Signs fitters are heading back up to the Belfast Harbour Commissioners office today to complete the third phase of signage.  This significant building in Belfast houses a vast collection of paintings, sculpture and other works of art.  Barrow Signs were commissioned by BHC and Fresh www.fresh.ie to produce bespoke interpretation panels to hang adjacent to the artwork.
This is the result.  We craft from Wallnut a 45mm rail for the bottom fixing and a 15mm wallnut rail for the top, each of the bottom rails has to be engraved numbers to correspond with the catalogue.  The narrative relating to the artwork is reverse printed onto 3mm clear acrylic, which sits neatly between the two rails. The finished size is 175mm wide x 200mm high.
As well as signs that you see every day in shops on the high street, at events and on the road Barrow Signs manufacture with great pride and attention to detail bespoke signage and interpretation panels for Art Galleries, Museums, Libraries and other public buildings and private customers.
At Barrow Signs we really enjoy these kinds of projects as they challenge us to consider other kinds of materials, in this case Wallnut and of course having the opportunity to work in such a beautiful building as this one