Factory Signage - 3D Lettering
Factory Signage - 3D Lettering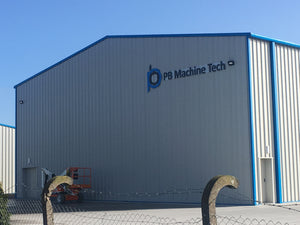 Barrow Signs recently completed a job in Carlow, not far from where they started out in 2004.  On this occasion they were at PB Machine Tech [http://www.pbmachinetech.ie/] in Bagenelstown, this Company make hydraulic rams for all kinds of machinery and industrial equipment. They had recently extended their premises in Bagenelstown and needed signage to identify the building.
Barrow Signs surveyed the project and proposed a sign measuring 5.5m metres in width and the logo has a total height of 1.5m. 
As is common with almost all modern industrial buildings they are completed using insulated sheeting, and more often than not there are severe high spots on the panels.
To overcome this, they fixed a tightly fitting clear acrylic panel to the high spots of the sheeting and then fixed the CNC cut lettering to the acrylic. 
The complicating factors in this project were, the client needed completion before a specific date as they had international visitors arriving, the sign was installed at approx 9 metres from ground level and 'Storm Gareth' was fast approaching from over the Killeshin Hills.
PB Machine Tech kindly laid on a MEWP for us, which was fitted with hydraulic rams that had been made in the factory at an earlier date.
Barrow Signs are happy to inform that this project was safely completed on time, in budget and to the satisfaction of the Management of PB Machine Tech. They look forward to working with the Company soon when they are ready to proceed with the safety signage and signage for the circulation space around the yard.
 For more information on PB Machine Tech please view their website at http://www.pbmachinetech.ie/