Dublin Bay Vets
Dublin Bay Vets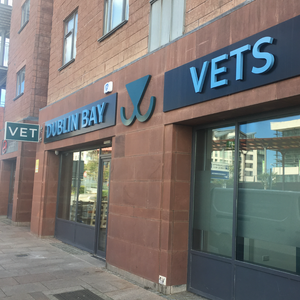 Our sincere thanks to Donal and Colm @dublinbayvets for trusting @barrowsigns to manage the signage for their new veterinary clinic @clongriffntown.
Barrow Signs looked after the process from design through to manufacture and installation. Key parts to this installation was the manufacture of new fabricated aluminium fascias, these were necessary to 'lift' lettering from the rather dull looking stone façade underneath. On top of this we have built up lettering, and the logo shape that have been fitted internally with white LED lights, which, at night-time create a halo type effect.
To the left we made and installed the projecting fret cut lightbox, again using very powerful yet efficient LED technology.
Moving inside, we fitted CNC cut foamex lettering to a feature wall (you will see this in many of the Vet's posts), and to complete we did some work on the windows to provide privacy for consultations.
All in all, this was an awesome project to be involved in, a huge amount of thinking has gone into the clinic, and I have to say, the standard of finish of the fit out is at a very high standard. Pets and their owners will love it.
Have a look at the video of this project and, if you have a requirement for signage for your project give us a call at 053 9383494 or by email to talktous@barrowsigns.com
https://www.youtube.com/watch?v=iRpai-CKChk
Dorian Marks