Bio Security and Avian Flu Control Measures Signage
Bio Security and Avian Flu Control Measures Signage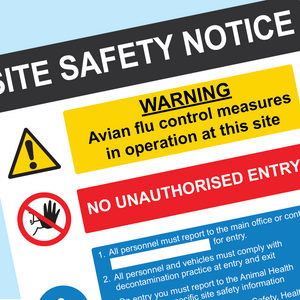 With an increase in the number of Avian Influenza (Bird Flu) cases being recorded in Ireland and the United Kingdom, authorities in both jurisdictions have introduced measures to isolate poultry destined for the food chain from wild birds. 
These measures require the limiting of and control of visitors to Poultry Farms and other sensitive areas. 
In response to this, www.signsonline.ie have available a new range of signage to assist Poultry Farm Owners and Managers to advise and direct their staff, visitors and other stakeholders that may be visiting their facility.
All of the signage supplied is fully laminated and may be powerwashed or sanitised repeatedly without affecting the quality or clarity of the message.
The range is available at this link https://www.signsonline.ie/collections/biosecurity-signage
The firm were among the first to react to Covid-19 conditions and their quality products were quickly available as guidelines were being introduced and amended and were purchased by the end users, industry and government institutions.
Further information on Avian Influenza Biosecurity is available in Ireland from Teagasc at https://www.teagasc.ie/rural-economy/rural-development/poultry/disease/avian-influenza-biosecurity/ and in the UK from DEFRA at https://www.gov.uk/guidance/avian-influenza-bird-flu-cases-and-disease-control-zones-in-england
All of the signs listed can be edited and the text or message changed to suit site specific conditions.  Customers can order online or Call / WhatsApp Dorian Marks directly at +353 (0)87 9980510 for a prompt service. 
www.signsonline.ie is a trading name of Barrow Signs Limited and have been selling signage online since 2015.  They are based in Gorey County Wexford and ship products to customers located throughout Ireland, the UK and mainland Europe.