15% Discount on Safety Signs when ordered online
15% Discount on Safety Signs when ordered online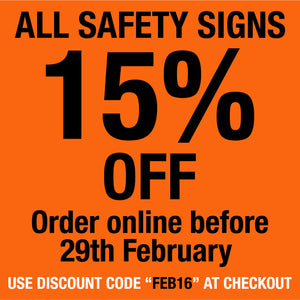 Barrow Signs are running a promotion on our websites www.barrowsigns.com and www.safetysignsireland.com 
15% OFF ALL ONLINE ORDERS
This promotion is on for the month of February 2016.  
To get this offer you need to enter "FEB15" in the discount code box at the checkout
Have a look through our extensive catalogue of signs on the website, you can order safely and securely on line, all safety signs are dispatched next day (or same day dispatch for orders received before 10:30am). We will ship them to you via our Couriers.
Don't forget we still have free delivery on all orders over €70 as well.
Barrow Signs