Site Hoardings and Derelict Sites
Site Hoardings and Derelict Sites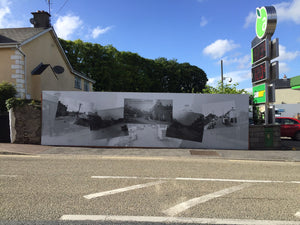 Hoardings are an essential part of many projects, in addition to keeping the public and works separate, they provide an ideal opportunity for advertising and promoting new development or project information.  This project was slightly different, have a read of this blog to find out what how Barrow Signs helped to make safe a derelict building and also tidy up an unsightly plot of land.
Lately we were contacted by Ferns Tidy Towns organisers and Wexford County Council to deliver a solution to the problem of derelict sites around the towns land of Ferns.  Ferns is a historically important town between Gorey and Enniscorthy in County Wexford, a significant feature in the Ireland's Ancient East [www.irelandsancienteast.com] and on the main route connecting Rosslare to Dublin.  
However, like many towns, villages and communities throughout Ireland there are some properties that have fallen into disrepair.
In Ferns there is an area of overgrown land on one side of the road, opposite is a former licenced premises, that had some of its ground floor windows smashed.  
Barrow Signs brief was to (i) Design, supply and install an aluminum hoarding to cover the land, the hoarding needed to be removable and installed in another location if required, and (ii) to design, supply and install graphics that would cover the ground floor windows.
The design included several pictures of Ferns from early in the 1900's through to the 1960's that we were arranged around a central image that was faded into the background.  For the bar windows we selected some vector type silhouette graphics of a party type scene.
Once the artwork was approved the graphics were printed on our specialist wide format printers and treated with a matt laminate to reduce the glare and also to provide protection form graffiti/ vandalism 
Here are some photos of the finished job
Long view of the site hoarding on the Main Street in Ferns 
Close view of the Hoarding. Aluminium is an ideal choice for this type of work. 
This is the bar that we covered the broken ground floor windows
The project had two large panels, approx 1.4m high
This is the smaller right hand side panel.
Dorian Marks
www.barrowsigns.com
087 9980510