Love Gorey 'pops up' at Gorey400 exhibition
Love Gorey 'pops up' at Gorey400 exhibition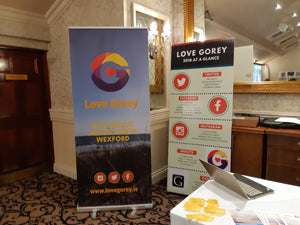 We were delighted to work with Love Gorey #lovegorey (www.lovegorey.ie)
last week in preparation for the Gorey 400 event that was held at the Ashdown Park Hotel.
Love Gorey is an organisation that promotes the Gorey area as a premium place to shop, stay, eat, live and play. As well as the website it excels at promoting the whole north Wexford area on social media platforms.
Barrow Signs designed and supplied the pull up banners for the Love Gorey stand, the supply of printed corriboard signage to the customers design, along with 170gsm A5 double sided leaflets. The leaflets were produced within a 36 hour time window.
Pull up banners, leaflets and business cards are essentials for any interface with the public or customer at exhibitions, trade shows and events.
At Barrow Signs we design and supply these and many other products that you need to professionally promote your brand at events
Pull Up Banners https://www.barrowsigns.com/products/pull-up-banner
Pop Up Display Wall https://www.barrowsigns.com/products/pop-up-display-stand
Business Cards https://www.barrowsigns.com/products/business-cards
Contact us at 087 9980510 for the latest pricing on leaflets and printing work, remember, we have a marketing department that will prepare the artwork for you and even help you plan and layout your exhibition space.
Our experience will help you maximise the return on your investment.
More details on line or call me at the numbers below. Dorian Marks 087 9980510 / 053 9383494 Dorian@barrowsigns.com
Finally, here is a screen grab of an email that I received from Love Gorey...